Progres® in pig production: Improve intestinal integrity naturally to enhance pig performance
Published Friday, 26th May 2023
By Dr. Shah Hasan, Technical Manager AB Vista
Good gut health is crucial for animal performance, driving towards profitable and sustainable animal production. This applies to pig production, as well as most other species. The most common challenges in pig production are neonatal mortality and post-weaning diarrhoea (PWD), along with growing performance targets.
Can a product with a proven track record of promoting beneficial effects on intestinal integrity help with these challenges?
Three studies are summarised below to demonstrate how Progres®, the only resin acids product in the animal feed market, delivers a unique natural solution, which works in a proactive way.
In these studies, Progres® fed to sows and piglets has been shown to:
Improve sow colostrum quality
Beneficially modulate the gut microbiota of sows and piglets
Improve piglet performance and reduce the risk of post-wean diarrhoea.
Challenge: Improving colostrum yield and IgG content
Since sow is one of the main limiting factors, our work on improving survivability of piglets should start with the sow. We know that one of the major causes of pre-weaning mortality is insufficient colostrum intake, as approximately 31% of modern hyper prolific sows do not produce enough colostrum for their litters, and 36% of piglets do not receive sufficient colostrum for proper growth and survival. High litter size posts more challenges to colostrum intake due to competition between piglets. Colostrum shortage not only directly affects piglets' survivability due to hypoglycaemia, but it also means that the piglets will receive less immunoglobulins – especially IgG – from the sow. Lower immunoglobulins decrease piglets' protection against pathogen pressure and has a long-lasting effect on weight gain and survival even after weaning.
Solution: Progres® in sow's diet
In the first study (Hasan et al. 2018), Progres® supplementation – at 1.5 kg/t during the last week of gestation until farrowing – significantly increased colostrum yield, colostrum IgG and serum amyloid A (SAA). This shows Progres® helps to ensure more energy and strengthens immune protection in neonate piglets. The increase of acute phase protein in colostrum (SAA) has beneficial effects on the neonatal gut development. Progres® also improved the abundance of beneficial microbiota and decreased the numbers of opportunistic pathogens in sow faeces.
Based on this study, Progres® supplementation to sows not only improves the protection of piglets at birth, but also improves the quality of colostrum, reducing any deficiency that may be driven by the limited colostrum intake.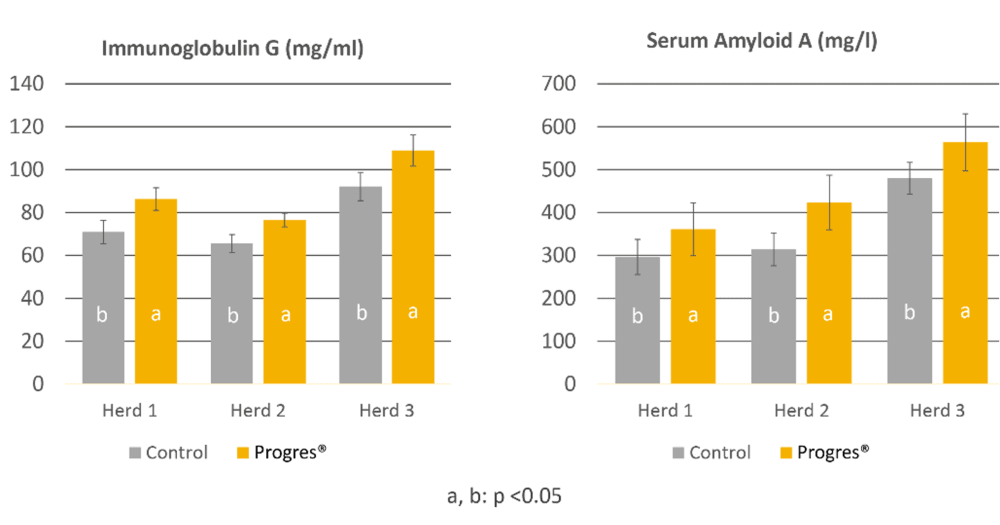 Figure 1. Levels of Immunoglobulin G and Serum Amyloid A (SAA) in the colostrum
Indirect maternal and direct dietary effects of Progres® in piglets
The second study (Uddin et al. 2021) explored the indirect maternal effects (Progres® at 1.5 kg/t of feed fed to sows during late pregnancy and lactation) and the direct dietary effects of Progres® in piglets (fed to piglets at 1.0 kg/t of feed in the creep feed and post weaning).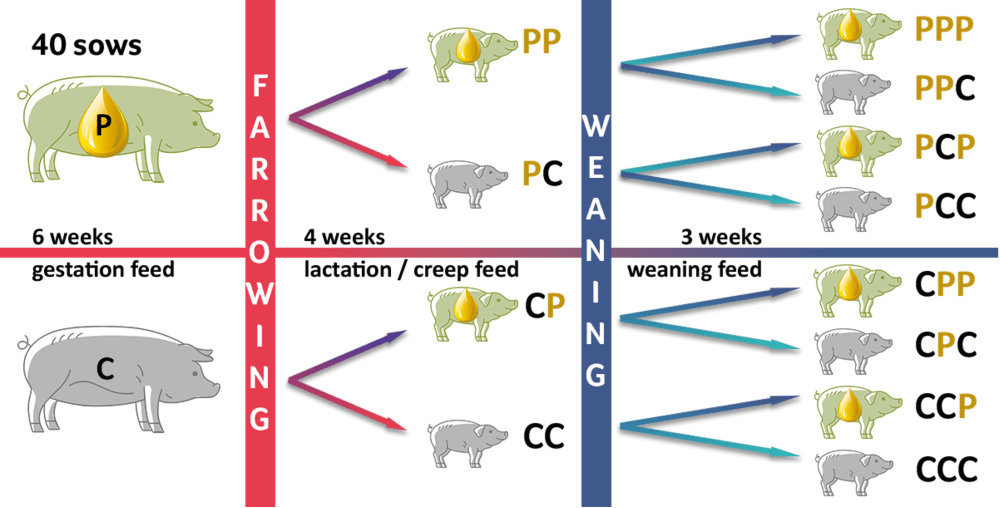 In this trial, Progres® significantly increased the total number of piglets born and the piglets' weight at 7 weeks, while reducing piglet mortality, PWD incidence, and faecal myeloperoxidase (MPO), a biomarker of intestinal inflammation. The best-performing piglets were those from Progres®-fed sows and piglets which were constantly fed with Progres® (trial ended at 7 weeks of age).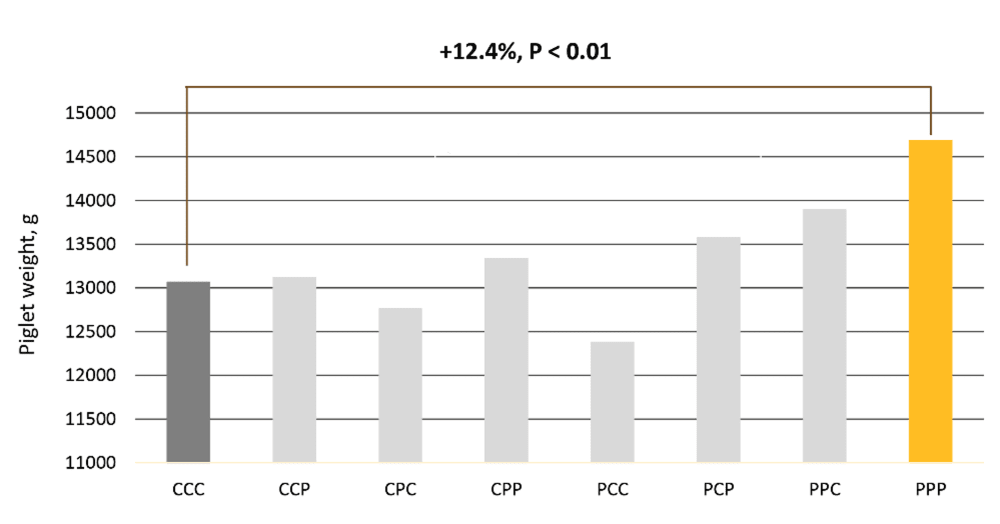 Figure 2. Piglet weight at 7 weeks of age
Progres® – a natural solution for current challenges in pig production
These studies established a link between the proven mechanism of action of Progres® and the desired performance parameters of sows and piglets. They also illustrated the beneficial modulation of microbiota and inflammatory status.
In the context of the recent zinc oxide ban in the EU, the third study (Guan et al. 2021) explored whether Progres® would make a feasible alternative to replace ZnO.
This challenge trial was conducted to compare the effects of Progres® (1.0 kg/t) a high dose of zinc (2500 g/ton) or Control (non-supplemented) treatments in lipopolysaccharide (LPS)-challenged piglets.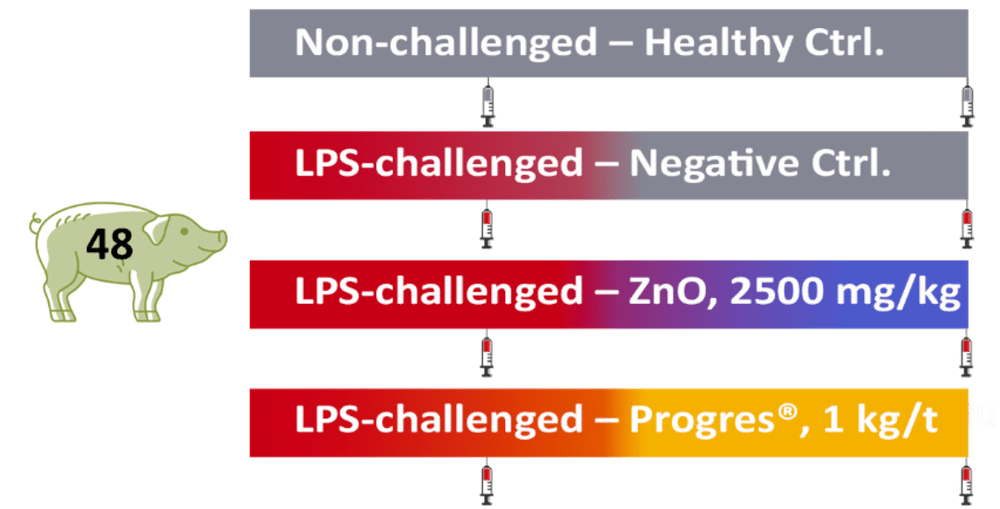 In this study, performance was equal in all treatments. Compared to the Control group, Zinc and Progres® increased serum levels of IL-6, IL-8, IL-10 and TNF-α, post-LPS-challenge. However, this did not affect these cytokines between challenges.
The levels of the anti-inflammatory cytokine interleukin-10 were found to be highest in the Progres®-fed group.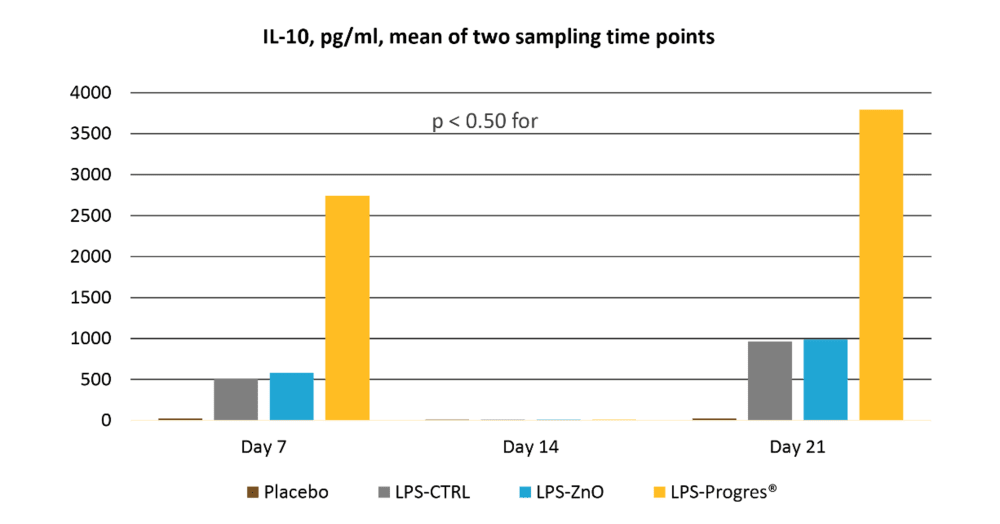 Figure 3. The level of anti-inflammatory cytokine IL-10 at 1.5 and 3 hours after an intramuscular LPS-injection (Days 7 and 21); at Day 14 the LPS challenge was not given.
The results of this trial suggest that Progres® can be an integral part of piglet production without medical ZnO, and it can reduce normal inflammatory status even when such challenge is not directly affecting animal performance.
Conclusion
To summarise, these are the effects of Progres® in sows and piglets:
Improved sow and piglet performance (studies 1 and 2)
Reduced PWD incidence (study 2)
Increased colostrum yield, the concentration of IgG and SAA concentration in colostrum (study 1) and lower faecal MPO (study 2) suggest improved immune functions in piglets of Progres®-fed sows
A similar modulation of cytokine profiles after LPS challenge by Progres® and a high dose of ZnO suggest positive immunomodulation in piglets (study 3).
References:
Study 1: Hasan, S., Saha, S., Junnikkala, S., Orro, T., Peltoniemi, O. and Oliviero, C. (2018) Late gestation diet supplementation of resin acid-enriched composition increases sow colostrum IgG content, piglet colostrum intake and modulates sow gut microbiota. Animal 13: 1599-1606.
Study 2: Uddin, M.K., Hasan, S., Mahmud, M.R., Peltoniemi, O. and Oliviero, C. (2021) In-feed supplementation of resin acid-enriched composition modulates gut microbiota, improves growth performance, and reduces post-weaning diarrhoea and gut inflammation in piglets. Animals 11: 2511.
Study 3: Guan, X., Santos, R., Kettunen, H., Vuorenmaa, J. and Molist, F. (2021) Effect of resin acid and zinc oxide on immune status of weaned piglets challenged with E. coli lipopolysaccharide. Frontiers in Veterinary Science 8:761742.
Sign up for AB Vista news
A regular summary of our key stories sent straight to your inbox.
SUBSCRIBE